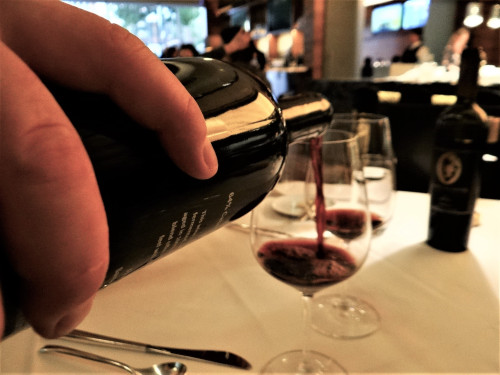 19 Nov

Accidental Winemaker: Chad Willis, Santa Ramona Vineyards

Posted at 15:57h

in

Press

View Article at Cravedfw.com

CraveDFW.com, June 28, 2018 – Written by Steven Doyle

I first became acquainted with the beautiful Santa Ramona wines while dining fairly recently at the Oak Cliff restaurant VH Casual Dining and Bar (read about that visit here). It was through a friend I met Santa Ramona representative Daniela Saldana who works for the owner of the winery which is set on acreage in the Temecula Valley American Viticultural Area in Southern California. This is a region which hosts some amazing boutique wineries set on rolling hills and farm rich soils of these amazing vineyards such as Vendemia Wineries, Hart Family Winery, Briar Rose and so many more family owned and operated vineyards producing an extremely limited number of cases of wine. Add to this list Santa Ramona which became a winery much by accident by the owner and wine hobbyist Chad Willis.

Willis is a Texan and grew up modestly in Mesquite, Texas. But at a very young age of 23 found new wealth in the oil and gas industry. It was then he decided to expand his interests in a variety of businesses for the sake of investment. Dallas Business Journal described Willis as a serial entrepreneur with his hands in diverse businesses. A winery was not one of them. Santa Ramona was born from a five acre plot where he built his California home and decided on a whim to plant grape vines. His hobby expanded when he hired a winemaker part time and gathered all the necessary equipment needed to produce wine in a building he designed to process grapes.

Santa Ramona was still a hobby at this point until Willis offered up his first vintage into a contest held by the Orange County Wine Society where he placed silver in an accidental field blend of cabernet and merlot grapes. Willis turned around immediately and offered his blend taking bronze in the Winemaker Magazine International Amateur Wine Competition, and silver in the Del Mar Fairs Wine Tasting Competition.

Willis was now in the wine business. It took three years to get workable fruit, plus 24 to 26 months of fermentation, aging in French oak barrels. The first harvest was in 2012.

There were struggles along the way, but you will find the Santa Ramona wines to be one of the best you will never find in your favorite wine shop. Willis only places his wines in restaurants he has a relationship with, or appreciates. Currently that means local Stephan Pyles restaurants, which he is an investor such as Stampede 66 and the very beautiful Flora Street where I met Willis for dinner to not only taste his vintages, but to have each paired with in a tasting menu that Stephan Pyles prepared for us. This was one of my very favorite evenings I have had in a long time.

Willis describes his foray into the wine business much like the Russell Crowe film "A Good Year" and that might be an excellent comparison. Nothing was intentional, but great things have come from his golden touch.

Expect the list of restaurants to grow very soon.

You may also purchase Santa Ramona at the winery's online shop. There you will find these favorites:

2012 Cabernet Sauvignon: Nicknamed the First Crush for obvious reasons, this powerful red is 100% estate grown that is big and powerful, eyt with a relenting glow on the back end for a perfect balance honed by the sweet maturation of a 30-month build in French oak.

2012 Duke's Crush: This is the award winning field blend which occured strictly by accident but won the hearts and palates of judges in Orange County. This wine has a rich flavor not too unlike a fantastic Pinot Noir, with soft undertones and again aged in virgin French oak barrels for 30-months.

2013 Cabernet Sauvignon: This is a rich and jammy cab that is as big as Texas. Also barrel aged for 30-months, this wine was almost a loss but with the aging process it matured into a beautiful wine that is perfect today as it will be ten years from today. And hour of breathing room gives this wine an extra edge that you will find satisfying.

2013 Estate Guiliana Blend: this 60/40 Merlot-Cabernet has instilled smooth tannins that makes this wine wild and bold with a smooth finish.

2013 Estate Merlot: Expect sweet drk fruit from the fermented whole berries aged in American oak that produces a lingering soft strum to the palate.

Look for tasting notes soon on this special dinner at Flora Street that you may recreate.